Scientific Computing Lecture Series
Scientific Computing Program of Institute of Applied Mathematics (IAM) has launched Lecture Series to share knowledge and expertise on computational science and engineering (CSE) with the undergraduate students. Over the past two decades, CSE has become an increasingly important part of research in academia, industry, and laboratories. Mathematics-based advanced computing is now a prevalent means of discovery and innovation in essentially all areas of science, engineering, technology, and society, and the CSE community is at the core of this transformation. The purpose of these lecture series is to bring together researchers from a diversity of subdisciplines from the fields of computational mathematics and engineering with undergraduate students, who are prospective graduate student candidates.
Our first lecture series will be a series of MATLAB for 3rd and 4th year undergraduate students. The goal of this seminar series is to provide an introduction to the MATLAB environment and language, in order to solve problems in science and engineering. During the lecture series, the following topics will be covered: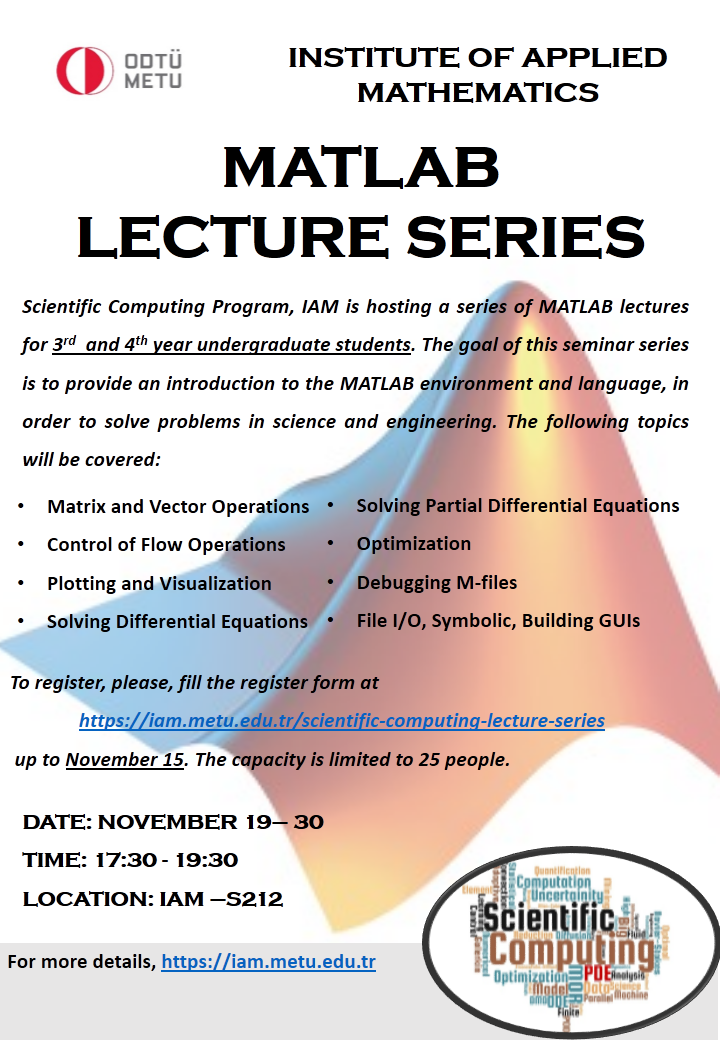 Matrix and Vector Operations;

Control of Flow Operations;

Plotting and Visualization;

Solving Differential Equations;

Solving Partial Differential Equations;

Optimization;

Debugging M-files;

File I/O, Symbolic, Building GUIs.
To register, please, fill the form at REGISTER up to November 15. Due to the limited capacity (up to 25 people), you need to get an acceptance e-mail by us to attend the lectures. If you have any questions, please contact with yucelh[at]metu.edu.tr. The lectures will take place in S212, IAM.
The program is as follows
Lecture I

Date: November 19, 17:30-19:30
Topics: Introduction, Data Structures, Operators, Control Flow

Lecture II

Date: November 20, 17:30-19:30
Topics: Plotting, Visualization, Scripts

Lecture III

Date: November 21, 17:30-19:30
Topics: Functions, Advanced Data Structures, I/O Data

Lecture IV

Date: November 26, 17:30-19:30
Topics: Numerical Linear Algebra

Lecture V

Date: November 27, 17:30-19:30
Topics: Optimization

Lecture VI

Date: November 28, 17:30-19:30
Topics: Animation, Debugging, Symbolic Toolbox, Performance Measures
Before come to first lecture, please
do not forget bring your own personal notebook to lecture,
be sure that MATLAB has already installed on your notebook. MATLAB Student Version is available to download on MathWorks website, http://www.mathworks.com, or METU FTP Severs (Licenced).
---
Last Updated:
02/11/2018 - 10:38